---
2018 EVENTS & NOTICES


---
UK - Birmingham
21 March – 5 April 2018
Birmingham City University Parkside BuildingCity Centre Campus, Curzon Street, B4 7XG Birmingham
Sound System Culture‎Exhibition celebrating the current generation of sound systems

---
 Brazil - Recife
19th May

---
UK - Luton/Ascot
21 June
We are running a coach Luton & London to Royal Ascot 2018
More info 07956452089 we have organised:
. Return coach travel
. Silver or Grandstand Ticket entry
. Complimentary Drinks & Buffet Lunch.

---
PAST EVENTS
---
UK - London
Sunday 25th October 1pm

Havana Londres are taking over The London Riviera once again for an afternoon of Cuban Salsa, crazy line ups and rueda! If you missed the first one, you missed a lot... ;) So make sure you make it to this one!

It's all completely FREE and open to everyone so come and join us for some good times and dancing!

LOCATION: The London Riviera  Queen's Walk, More London, London 
---
Trinidad - Chaguaramas
25th October, 2015 - 25th October, 2015
Parang Fiesta 2015

Time: 5:00pm - 8:00pm
Venue: Chaguaramas Boardwalk, Williams Bay, Chaguaramas Trinidad
Contact: Tele: 868 225 4243, 868 789 4302, 868 789 4301
Come dance to sweet parang music by the sea as the countdown begins to Christmas 2015 featuring live parang bands, latin dance competitions and tasty delicacies. Admission: Free
---
---
UK - London
Saturday 7th November
Fireworks Night In Victoria Park
Come and celebrate Fireworks Night at Victoria Park on Saturday, November 7!
Admission is free. People who visit are encouraged to send in their firework snaps to Tower Hamlets Council on social media, using #fireworksTH
---
Trinidad - Brasso Village
15th November 11:00–18:00 
Come join us for a fantastic day of Food, Entertainment and Education! The event is free and there will be lunches on sale, chocolate making demonstrations, Cocoa dancing, live Parang and much more!!
Brasso Seco Village, Saint George, Trinidad And Tobago
---
Nigeria - Calabar
30th November to J1st January
Carnival Calabar
 Every December, all roads lead to the beautiful city of Calabar, for the Calabar Festival, the biggest and longest multi-faceted entertainment programme in West Africa. For thirty two days, the serene, tree-lined streets of Calabar come alive with visitors from all over the world, in an exhilarating celebration of culture, dance, music and theatre. Nigeria's strongest tourism brand, the Festival features the HIV/AIDS walk, musical concerts featuring top national and international artistes, a colorful cultural parade, traditional boat regatta, Christmas village, Christmas camp for children, Food Fair, fashion shows and the Children's Carnival.

The highlight of the Festival is the exciting and colorful Carnival Calabar. Attracting over 100,000 costumed revelers and well over a million local and international spectators, the Carnival, tagged Africa's Biggest Street Party, is a unique visual display of innovation and creativity, featuring cultural influences and traditions from the past and the present in its costumes, drama, dance and music. Click on image for website

---
UK - Luton
Saturday 5th December
A Night of Pure Soca Music in Luton
Soca music going right across the board... from them groovy classics all the way to the current Soca hits of today !!! 
Venue: Club Lewsey Luton
Starts 10pm till late
For Londoners there will be  a coach available to anyone travelling from London  Call for tickets and more info 07715589404

---
Brazil -Rio
Thursday 31st December
Umbanda – Festival of the Goddess of the Sea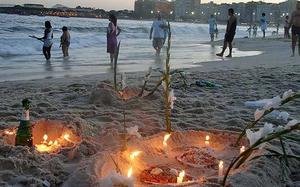 On 31st December every year, people of Umbanda religion gather at the Copacabana, Leblon and Ipanema beach to honour the sea goddess, Iemanjá.
Since, Iemanjá is also the goddess of Carnal pleasures; followers have to satiate her cravings every year with celebrations marked by dancing, smoking and trance.
In the evening, decorated rafts with flowers, gifts and perfume and rice offerings on board, is set out in the sea to please and thank the goddess. Whether believers of Iemanjá or not, Rio locals join the celebrations to enthusiastically welcome the New Year.
---
ADVERT
UK- Liverpool
---